Remodel Like a Pro
"Transforming Small into Beautiful"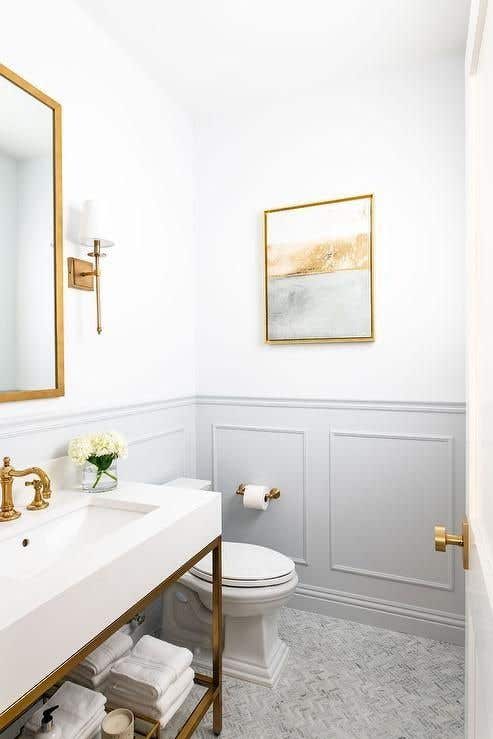 In light of the recent volume of home remodels and renovations, I compiled a list of 8 Remodelling tips for small bathrooms!
While small spaces feel cozy, they can become a real challenge when finding a space for everything. With the wide variety of trends and hacks circulating the industry, it can be tricky to narrow down parts of a renovation that are worth DIYing or buying.
To redesign a small bathroom successfully, we need to consider all the elements involved; these tips for small bathroom renovations will elevate your remodel and give you a room that checks off all the boxes.
Read on to learn more about how you can achieve a small bathroom remodel in just 8-easy steps!
8 Tips on How to  Effectively Remodel a Small Bathroom
Okay, so where do you start?
A small bathroom only needs a few small solutions to feel A thousand times better and more functional. 5-organizational tips for small bathrooms: Think practically, think about overall appearance, storage, function and most importantly, how much space you have to work with.
#1: Be Purposeful with Your Palette
#2: Mirror Up and Get Reflective
#3:  Get Creative with Storage
#4: Opt for an Optical Illusion
#5: Have Some Fun with It
#7: Think Creatively and Go Compact
1: What is Your Palette?
With every project is a purpose behind it. 
Think of your inspiration; is it Light & Bright, Dark & Moody, or Fun & Playful? 
If the purpose of your project is to steer away from a dull space and add some colour or depth, you'll probably go for a dark & moody palette or a fun and playful scheme.
When looking to brighten or create a larger appearing space, I usually stick with a soft colour palette, sticking with either light coloured walls, tiles or wainscotting. 
Here are some of our favourite Colours: 

Evergreen Fog by Sherwin Williams

  October Mist by Benjamin Moore

Breakfast Room Green by Farrow Ball

These colours are beautiful and can be fun for the right project!
2: Mirror Up and Get Reflective
Rather than just hanging one above the vanity, consider mirroring a whole wall of your tiny bathroom. 
Or go unique and pick out a quirky mirror, leaving your guests mesmerized and feeling inspired.
The reflection of light and pattern will do the same good work a window does.
3: Get Creative with Storage 
When remodelling a small bathroom, storage should be thought-out strategically.
Take advantage of hidden storage and vertical storage solutions in your space.
Opt for closed storage, making clutter out of sight and out of mind, or take advantage of stealthily hidden storage with Recessed Wall Cabinets.
4: Opt for an optical illusion
You might think you need to go for a small scale motif, but large motifs make a space feel larger.
Whether you choose big tiles or large patterns, both give an illusionary scale in tight quarters.
In larger spaces, a bold print can look dizzying and overwhelming.
In smaller bathrooms like powder rooms, statement wallpaper can transform a small space when applied on one wall, with the lighter paint colour on the rest.
I love using wallpaper as a feature in small spaces because it adds character and uniqueness; Opt for a bolder print than usual, and say goodbye to shyness!
5: Have Some Fun with It!
Believe it or not, even with a windowless bathroom, your space can be light and bright.
Large tiles throughout the bathroom (floor and walls) give the most perceived space. Pairing a large tile on the wall with a small detailed floor tile gives both: creativity & perception of space.
My Tile preference/ go-to is a mid-large scale tile with a unique pattern and light tones.
Check out this flooring option. Stunning!
6: Let there be light!
Bring in that natural light into your small bathroom with large windows. I love a powder room full of light, so if increasing your window size is out of the equation, consider increasing your ambient lighting.
Sticking with original lighting seems like an easy solution. But by changing up your fixtures—and opting for seriously statement-making pieces—you can leave your powder room looking striking. 
As always, take a risk! If you feel drawn to an asymmetrical lighting fixture, go for it! Remember everything selected should be functional and purposeful. 
Many designers say that bathroom lighting can be one of the most important decisions you can make in your bathroom. From wall sconces to overhead pendants to LED mirrors, the selection process can become overwhelming
With a dark and moody palette, I tend to lean towards a low voltage industrial bulb for a cohesive design. If a light & bright scheme is more appealing to you, an LED mid-high voltage bulb is a great option.
Bulb Options:
LED:

 If you're wondering whether you can use an LED in your bathroom, the answer? Yes. These energy-efficient light bulbs are long-lasting and available in different temperatures and wattages. These bulbs are great options for your vanity.

Halogen:

 A better alternative to standard incandescent bulbs, these bulbs will not last as long as LED, but they are typically more affordable and often warmer than LED.

Edison:

 An Edison Bulb is best suited for accent lighting as it won't throw many lumens, but it's great for creating that industrial feel. They typically have a visible filament and are great for exposed fixtures.

Bathroom Lighting:
LED Mirrors 

Offer the perfect lighting for applying makeup, shaving, grooming, and more! White light also keeps clothes, makeup colours, etc., true to their actual colours—no need to worry about yellowing from lighting with warmer colour temperatures. Because the lighting surrounds the mirror, no shadows will be shown on your face when grooming, increasing your accuracy when shaving or applying makeup. 

Wall Sconces 

Sconces are the most common form of vanity task lighting. For the most light without any unflattering shadows, we recommend two sconces at or right above eye level to the side of your mirror (roughly 60 inches off the ground). 

Pendants 

An overhead pendant in the centre of your bathroom could help rejuvenate a tired powder room, or a modern chandelier can take a standalone tub and create a spa-like feel.
Quick Tip: 

A smaller Powder room can get away with 45-watts, especially when you aren't using the space to get ready every morning.
7: Think Creatively and Go Compact
Yep, you heard it! Opt-in for the "less is more approach". Consider keeping your floors clear with wall mounted vanities and toilets. Now that's smart!
Another Great option are wall mounted faucets. A great function of wall mounted faucets are they open up counter space for decor, which gives off a clean appearance and a larger counter space.
8: Pocket Doors
Though this trick is a little more labour-intensive, replacing your door with a pocket door that tucks away into the wall can open up room for additional wall space storage.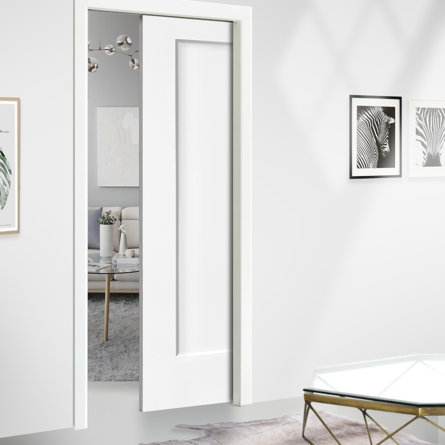 Thanks for Reading!
And there you have it! 8 easy hacks to effectively remodel your Small Bathroom!
What do you think of these tips? Will you be putting any of these solutions to the test?
Stay tuned for more designer tips and tricks! Stay safe and keep inspired!
Need some help? Still feeling overwhelmed?

Contact us today for more information on our design services.