Have our real estate staging professionals help you sell your Fergus home faster!
This house sold in 6 days for 100% of the asking price!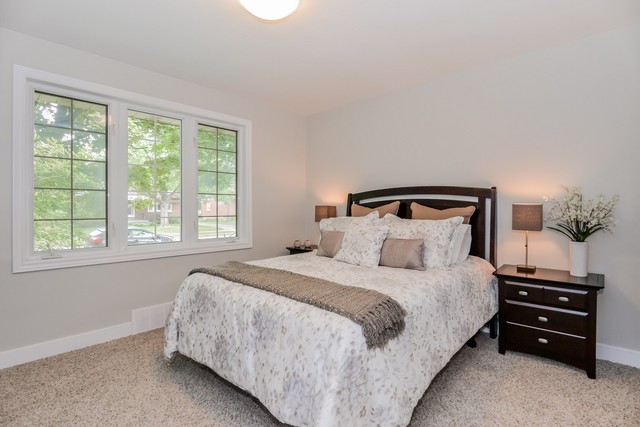 As a community, Fergus has it all: large country properties, new housing developments, a bustling downtown, and all of the amenities a family could ask for. As Fergus becomes a new hotspot, the housing market has become increasingly competitive.
For many families, the appeal of moving to Fergus is the ability to have the benefits of a country home, with easy access to a busy community. For home buyers in this competitive market, walking into a home that fulfills these desires will often be the push they need to make an offer.
For home sellers, this highlights the importance of staging your home to fulfill the desires of potential buyers. Whether you have a traditional country home or a modern country home, our Fergus home staging team has some tricks of the trade that will showcase your home at its finest.
Traditional Country Home
Traditional fabrics and accessories. For a traditional country home, buyers are looking for well kept, old time charm. When staging, this means playing up your homes maturity with classic fabrics, in the appropriate colours and pattern, and furniture, such as antique wooden chairs and tables.
Extend your home outdoors, but maintain style. Another benefit of country living is the privacy it provides. Buyers often look for outdoor seating areas that allow them to extend their home outdoors in the warm months. When staging, it's important that the style of your outdoor living space remains consistent with the rest of the home. This can be done by using patio furniture made with traditional country materials such as wicker and natural woods.
Modern Country Home
Make use of modern accessories. When staging a modern country home you can have fun with room accessories. A great way to do this is to incorporate unique modern art and chrome or glass accessories that blend the old with the new.

Modernize your patio. Large country properties maximize living space, both indoors and out. When staging your patio space, style consistency is once again important. Contemporary patio furniture with sleek designs, made of metal or plexi-glass is best suited for modern country homes and also come in a wide variety of colours to add a splash of excitement on the buyer's tour.
Staging your country home to showcase its benefits is an investment with a high return. When buyers see a home that fulfills their desires, they feel an emotional connection with your home. It is this emotional connection that often leads a home buyer to make their first offer on the home.