Have our real estate staging professionals help you sell your KW or Cambridge home faster!
This house sold in 12 days for $1100 over asking price!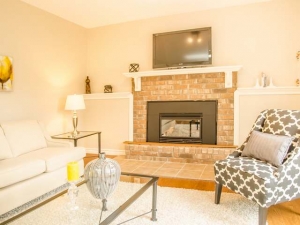 In recent years we've seen a boom in housing developments across Kitchener-Waterloo. This is a great opportunity for both first time and experienced homeowners, as there is a variety of different styles of housing on the market. Whether you're looking for a brand new condo or single-family home, or are interested in a more historic property, Kitchener-Waterloo offers something for everyone.
For home sellers, this growing market means that buyers are becoming more particular in their house hunting, only looking for the style of home that fits their needs. This highlights the importance of home staging in Kitchener-Waterloo to ensure that your home is in line with what home buyers are seeking.
Condo
When selling your condo in Kitchener-Waterloo, there are few key things that potential buyers look for:
Open space: Open up your space through decluttering, strategic furniture placement, and light exposure.
Traffic flow: Position your furniture so that there is ample walking space between and within rooms.
Appropriate furniture: Use furniture that fits the size and purpose of the room to help buyers see the full potential of the room.
Following these key tips when staging your condo in Kitchener-Waterloo will help maximize your space and showcase everything your home has to offer.
Single-Family Home
Similar to condos, when selling your single-family home in Kitchener-Waterloo there are key features that buyers look for:
Original purpose rooms: Return all rooms to their original purpose to help potential homebuyers check off necessary items on their wish lists. This means that if they're looking for a 4 bedroom house, they want to see four bedrooms, not three bedrooms and an informal home office.
Don't forget the outdoors: Big or small, create an inviting outdoor space at both the front and the back of the house. Having a beautiful space for small children to play or young couples to dine with their friends, will be high on the list of most young families or newlyweds.
Strategic home staging to create inviting outdoor spaces and converting rooms back to their original purpose will help show buyers everything your home has to offer. This will help them visualize their family in a new home in Kitchener-Waterloo-Cambridge.